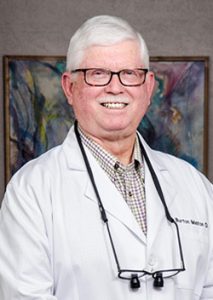 Dr. Burton Melton is a prosthodontist who has spoken extensively on a national and an international level. Dr. Melton graduated from Baylor University, College of Dentistry in 1970. He received his diploma in fixed Prosthodontics in 1972 from the University of Missouri-Kansas City.
He is a member of the American College of Prosthodontics, the American Academy of Implant Dentistry, the American Academy of Restorative Dentistry and the Southwest Academy of Restorative Dentistry. He is a diplomate of the International Congress of Oral Implantologists, a diplomate of the American Board of Oral Implantology/Implant Dentistry and a fellow of the Academy of Dentistry International.
Dr. Melton practices as a specialist in prosthodontics and implant dentistry in Albuquerque and Santa Fe, New Mexico. He lectures on all aspects of the implant dental practice, including diagnosis and treatment planning, fixed and removable implant prosthodontics, surgical solutions for prosthodontic problems, and aesthetic considerations in implant dentistry.
Meet Our Team
Our tight-knit, knowledgeable and compassionate team are here to take care of anything you need when you visit with our prosthodontist, Dr. Burton Melton. From scheduling your appointments to assisting chairside in our treatment rooms, you can count on us to make sure you receive the quality care you deserve. Give us a call today at 505-883-7744 to schedule an appointment here at Implant Dentistry of the Southwest and learn more about prosthodontics in Albuquerque, New Mexico.
Krystal joined us in February 2021. She has been in the dental field for over 15 years, where she started as a dental assistant. She contributes to the success of our office by working with patients to financially be able to complete their treatment. Krystal has always been the type of person who enjoys the feeling of helping others, so she loves being part of the process of helping people smile so they can eat and get function out of their mouth again.
She is married to her husband of over 10 years, and together, they have three children. When she is not in the office, you can find Krystal out hunting (big game and waterfowl), fishing, camping and four-wheeling with her kids.
Rita started working alongside Dr. Burton in early 2022. She studied dental assisting at Baylor and contributes to the success of our office with her dental and communication skills. Outside the office, she enjoys spending time with her family and is fascinated by hot air balloons.
| Day | Hours |
| --- | --- |
| Monday | 7:30 a.m. - 3:30 p.m. |
| Tuesday | 7:30 a.m. - 3:30 p.m. |
| Wednesday | 7:30 a.m. - 3:30 p.m. |
| Thursday | 7:30 a.m. - 3:30 p.m. |
| Friday | Closed |
| Saturday | Closed |
| Sunday | Closed |